Shopping Rollator or Shopping Trolley
For all those who do not need a walker, but who would like to have a possibility to support themselves and sit down at any time. The shopping rollators with extra large (25 litre volume) and extra stable (20 kg loadable) bag can be used as a conventional but stylish shopping trolley and can be converted into a fully functional rollator in 2 steps.
Accessories Rollz Flex
Of course, we offer optional accessories to make your Rollz Flex shopping rollator even more versatile. However, some accessories belong explicitly mentioned for the Rollz Flex.
Umbrella - because an empty refrigerator must be filled in any weather.
Bag hook - for the handle bracket the sometimes comes a little more.
Walking stick holder - the safe transport place for the walking stick.
Rollz Flex explained in 2 minutes!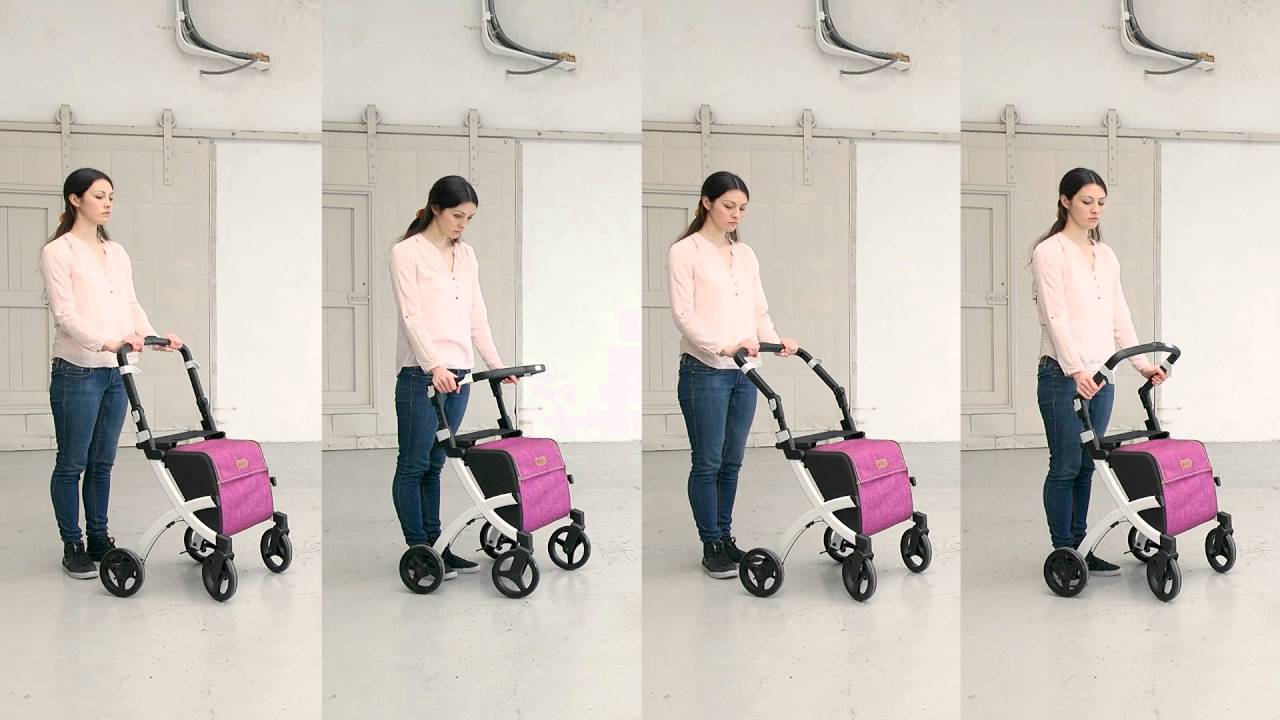 The advantages of a shopping rollator:
Shopping with the rollator is safer and easier than with any shopping trolley to pull behind you or the shopping cart. However, most rollators do not offer enough storage space for food or your newly acquired treasures.
Basically, a rollator is a mobile walking aid that allows people with limited mobility to extend their range of motion independently. Classical rollators consist of four wheels, a hand and parking brake, a seat, and of course height-adjustable support handles. A small bag or basket is also standard. Ideally, the rollator is foldable for transport.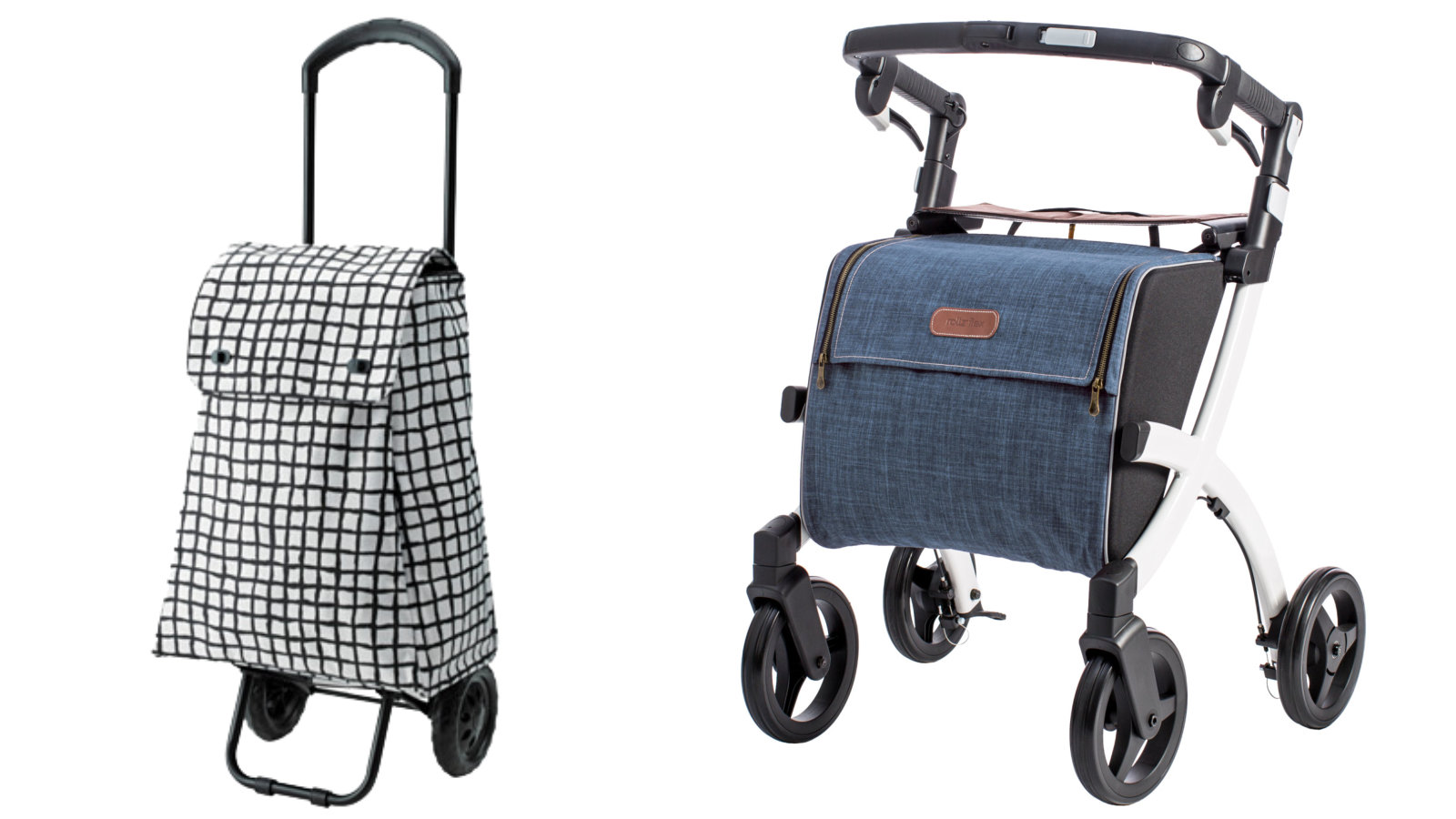 Lots of storage space:
A shopping, shopping or transport rollator basically has the same features, but it has one decisive advantage: this rollator has a larger bag and you can load more volume, as well as more weight, than another rollator. Ideally, this weight/volume is up to 20kg or 25l capacity. This corresponds to a weekly purchase for a one or two person household.
You should bear these things in mind when purchasing a shopping rollator:
If you are surprised by rain while shopping, a water-repellent carrying bag is highly recommended. Ideally, it should have a separate inner pocket, so your shopping stays dry and you can easily remove the inner pocket and store your shopping in the dry.
The Shopping Rollator should be stable, it should not tip forward even when fully loaded and you must be able to push or pull it easily over obstacles.
Shopping rollators are also ideal for transporting other heavy items, such as an oxygen unit for people with COPD or cystic fibrosis.
The special features of the Rollz Flex Shopping Rollator:
Your Shopping Rollator is particularly flexible if you can lock the push bar in different positions, similar to a modern pram. This makes it easier for you to negotiate curbs, climb small stairs, but also to enter public transport.
In any case, a shopping rollator should also have a comfortable seat and an integrated backrest. What could be more pleasant than a brief rest in a shopping mall while sitting down for a moment. With the Rollz Flex you simply use the flexible push bar as a backrest and can thus sit comfortably on the seat.
Transport and travel with your Shopping-Rollator:
The cross-foldability for a shopping rollator is also a matter of course. So you don't have to do without your ideal shopping companion when travelling by car or train. Basically, however, stability comes before weight, as this is a transport rollator. Therefore, when loading it into the car, make sure that you do not exceed the weight of your rollator, including the bag, of 7.5 kg. This will ensure that you can easily lift the rollator into your car or train.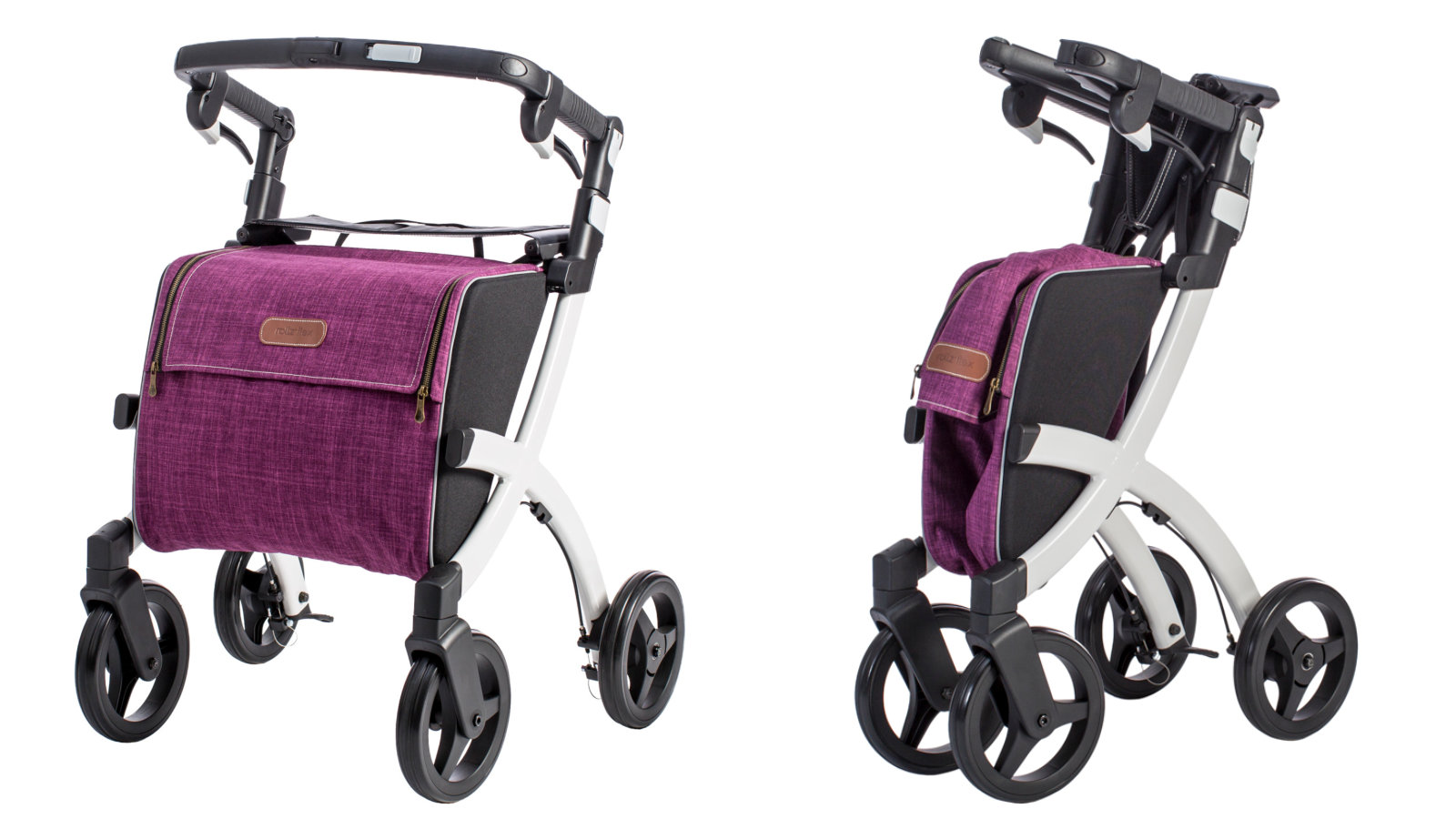 Tuned brakes on a shopping rollator:
If you want to transport something heavy, you should also adjust the brakes to the transport weight. A drum brake is ideal here. With a drum brake, your walker has a much higher degree of effectiveness than a classic walker brake and therefore offers the ideal braking power for heavy transport.
The modern design of the Rollz Flex:
However, a shopping rollator only becomes really good when it has all the functions and still does not look like a normal rollator. But when the Shopping Rollator supports you in a chic and stylish way in everyday life and in the supermarket. Grandma's Hackenporsche is history - modern design, beautiful colours and smart ideas make the Shopping Rollator an eye-catcher instead of a stigma. Actually, all you have to do is remove the word rollator, and it would be the most modern and practical shopping aid of all time. Safe, back-friendly and multifunctional.
Picture gallery Rollz Flex
Target groups for Rollz Flex
You would like to do your weekly shopping on your own, but carrying heavy shopping bags is difficult for you?
We have the ideal shopping companion for you, the Rollz Flex. With the Rollz Flex you get a shopping trolley with seat function and a large bag. Through the bag you can bring your weekly shopping for 1-2 persons safely home. In between you can even take a little break in the sun, because the Shopping Trolley has a practical seat net. Should the sun not shine, you don't even have to let the rain stop you from shopping with our Shopping Trolley, as we offer an umbrella as a practical accessory and the bag is also water-repellent.
Thanks to the flexible handle you can push the trolley in front of you or pull it behind you, e.g. to climb stairs. Especially the practical function, that you can push our trolley, can prevent pain in your back from pulling a normal trolley safely. You no longer have to carry heavy shopping bags, but can easily and safely push or pull your shopping home with the Rollz Flex.
Are you looking for an alternative to a normal walker, which at the same time serves as a companion for your weekly shopping?
We offer you as a compromise to a normal rollator, our Shopping Rollator Rollz Flex. Because of the push bars, which remind more of a modern pram, it does not look like a normal rollator.
The Shopping Rollator, with its chic, modern design, is more like a shopping trolley, offering you a place to rest and allowing you to easily push your weekly shopping for 1-2 people home, without back pain.
Give the Rollz Flex a chance and continue to enjoy the freedom of shopping on your own, or taking a shopping stroll through the city.
The Rollz Flex for people with multiple sclerosis (MS)
The chronic disease of multiple sclerosis changes a lot at a young age, such as a person's identity, emotional well-being, relationships with peers and the associated participation in social life.
With the Rollz Flex we would like to give you a little bit of self-determination and give you back a piece of your social life. With the Shopping Rollator you can stroll through the city with your friends and easily push your newly acquired treasures home. The modern design and flexible push handles mean that you only see at second glance, or even by explaining, that this is a rollator that will get you safely through your everyday life and allow you to take a break anytime, anywhere. Many people with MS have limited mobility at a young age, but are ashamed to use aids such as walkers because of their young age. In our society, the walker is still considered to be helpful only for the elderly, but not for young people. But especially for young people with MS, the Rollz Flex is a very good support because it does not look like a walker. It looks much more like a pram or shopping trolley and no one will recognise at first glance that it is a safe helper.
Treat yourself, with all the inhibitions, to a piece of self-determined normality with the Shopping Rollator Rollz Flex.
The Rollz Flex for people with paralysis, after an apoplexy (stroke)
In the case of an apoplexy, "sudden" failures of individual brain areas occur as a result of cerebral haemorrhages or vascular occlusions. Damage to certain areas of the brain often leads to unilateral pareses. Paresis is a paralysis, for example of a whole half of the body or a limb. This can lead to considerable impairments in normal everyday life.
In the case of paralysis in one arm, you can easily perform heavy transports with the Rollz Flex, as it can easily be controlled from the middle, on the push bar, with one hand. Thus the Rollz Flex gives you the possibility to go shopping on your own again. You can easily bring home a week's worth of shopping for 1-2 people with just one working hand. You can adjust the handle flexibly and adapt it to your needs. Does the paralysis of one hand make it much easier for you to pull a walking aid than to push it? Simply set the bar to the highest position and you can easily pull the walker behind you like a shopping trolley. Pulling also makes it easier to climb stairs. You can easily pull the Rollz Flex up the stairs. So you no longer have to carry heavy bags into your home. The Rollz Flex takes care of the weight of your shopping on the way from the supermarket to your fridge. The Rollz Flex is also available with a very special brake - the Flip Brake. In contrast to the classic brake, the flip brake can be easily pushed outwards even if your hand is paralyzed. So you can park the modern shopping trolley very easily, so it cannot roll away. Braking is also particularly important when you sit down on the Shopping Rollator's seat net for a little break.
For more independence in everyday life, let our Rollz Flex help you with your weekly shopping for 1-2 persons and with transport.