Sit, lie and sleep better with Saljol accessories
Do you spend a lot of time in bed? Because you are ill at the moment? Or not so mobile anymore? Do you sleep restlessly? That makes it all the more important to have good equipment that provides you with the best possible support when sitting, lying down and sleeping.
We recommend that you change your position again and again. Our positioning cushions provide perfect support here - they provide support in the right place. Simply to feel good! Do you sleep restlessly at night because you are constantly looking for the right position? Do you wake up in pain because your mattress is not the right firmness? You like to sleep on your side, but you haven't found a suitable side sleeper pillow yet?
Discover now the comfortable mattresses with a firmness level that suits everyone. A mattress that especially helps people with dementia sleep better through the night. Pillows that mould perfectly to your body and provide support where you need it. And a modern low bed that allows you to flexibly adjust the footboard, headboard and height. Our accessories make your time in bed more comfortable.
What problems can Saljol mattresses and positioning pillows help you with?
We spend about a third of our lives sleeping and many people spend even more time in bed. However, difficulties often arise that prevent them from sleeping well. Are you one of them?
There are many reasons why you don 't fall asleep, sleep through the night or wake up too early. But you can do something about it. Depending on the problem disrupting your sleep, Saljol has the right product for a better time in bed. With a comfortable, safe, secure sleep experience and customised positions, you'll be able to get back to a more relaxed sleep.
Think about it, do any of these situations apply to you?
You suffer from incontinence* or have an artificial bowel outlet and want wipe-clean mattresses and pillows.
You can't sleep through the night because, for example, it's difficult to breathe or you can't get any rest.
You yourself, or a relative in need of care, spend a lot of time in bed and are prone to pressure sores.
You need pillows to give you support, as you often have pain, paralysis or spasticity.
You often search for the right position.
No matter which problem applies to you, Saljol's accessories can help you get it out of the way.
*Incontinence: The term incontinence refers to the involuntary leakage of urine or stool.
How can Saljol's positioning aids help you make your time in bed as comfortable as possible?
The Bequema mattress
The Bequema mattress combines the benefits of three selected foams for a healthy sleep. Best of all, you can use the mattress not only in your normal bed. It is also ideal for care beds where the head and foot sections can be adjusted.
Instant relaxed sleep
Is your current mattress either too soft or too hard? Does this cause you to change position frequently during the night or do you wake up with a sore back or neck?
The foams of the Bequema mattress are matched to each other in such a way that you will sleep relaxed on the mattress right from the start without having to get used to it. Even when changing the lying position, the cold foam adapts immediately and gives way where higher weight acts. The best conditions for a restful sleep. You will quickly find a new position and continue to sleep. And not only in a normal bed, but also in a care bed.
The Bequema mattress in a healthcare bed
You would like to place the mattress in a care bed? No problem. You can also place the Bequema mattress in beds where you can adjust the head and foot sections without any problems. Most care beds are rented from medical supply stores. A mattress is often supplied with the bed. This is often thin and uncomfortable. Therefore the already increased danger for pressure points is still higher with bedridden humans. The cold foam mattress from Saljol stands for high comfort. Please note that only regular positioning, for example with the Saljol positioning cushions, can help to prevent pressure sores. Would you like to get your bedridden relatives out of bed from time to time to change their position? Club 2 Mobil makes it possible. Without you having to bring a hospital-style nursing chair into the house.
Moisture protection
You can cover the Bequema mattress with an incontinence cover. The cover can simply be wiped clean or washed at up to 60°C in the washing machine. The mattress stays dry and you can sleep with peace of mind. The worry that the mattress will get dirty if you have a mishap in your sleep or the plate of the artificial bowel outlet does not hold properly is history.
A wetness guard is also ideal for personal hygiene in bed. This means that there is no stick stain if a little water gets onto the mattress during washing.
The pillows from Saljol
You can use the Saljol pillows for many positions in bed or on the sofa. Whether you like to lie on your side, with your upper body elevated or are looking for a comfortable reading position on the sofa. There are many possible applications. In doing so, the pillows will help you, as well as a care-receiving relative, to have a more relaxed, comfortable sleep and sitting experience.
Elevate upper body with pillow
You may not want to give up your marital bed, but you need to sleep with your upper body elevated at night. This is possible with the pillow roll. Position the pillow roll at the head end in an A-shape and then lie down on it. This elevates your upper body and supports your breathing, for example if you suffer from COPD.
Also, if you suffer from reflux*, an elevated upper body is an effective way to reduce the backflow of stomach acid into the oesophagus. Here's how you can prevent waking up from painful heartburn.
*Reflux is a condition in which the lower sphincter of the esophagus does not close properly. This causes stomach acid to flow back into the esophagus when you lie flat, causing heartburn.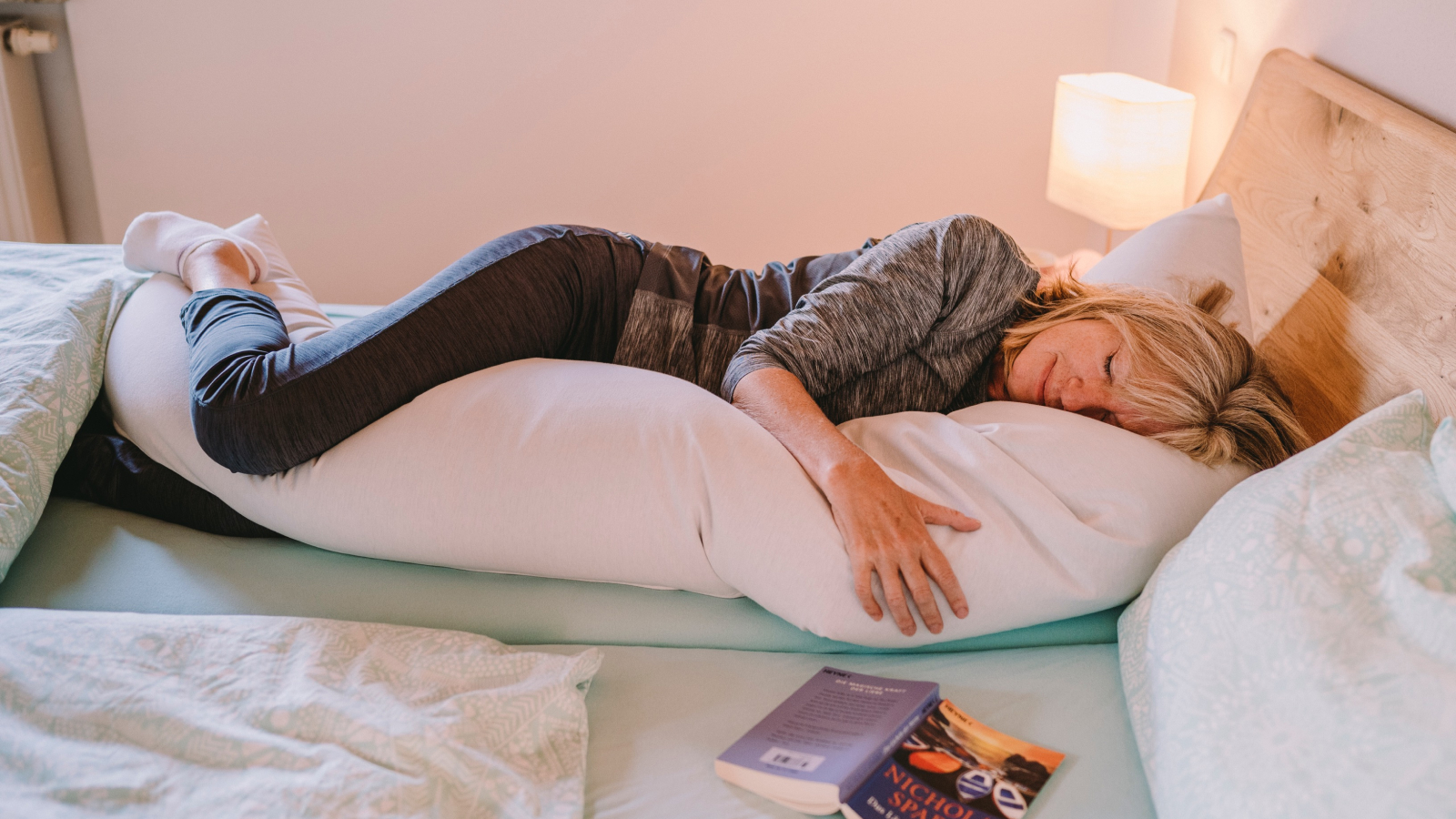 Frequent changes of position as a side sleeper
Are you perhaps a side sleeper yourself and have not yet found the right pillow? The pillow roll is characterized by a particularly long length of 180 cm or 220 cm. The roll provides support where you need it and can still be ideally moulded to your body. This position will bring a lot of relaxation and you can prevent back and neck pain because the pillow supports you perfectly in the lateral position.
Sitting more comfortably in bed and on the sofa
Do you like to read a good book in bed or on the sofa? But you can't hold the book properly when lying down? And when sitting, your neck starts to hurt from looking down at the book? With the Saljol pillow roll you can get yourself into a comfortable sitting position. To do this, place the pillow as an "A" on your bed or sofa and lean it against the backrest. In this position you can rest your arms comfortably on the sides of the cushion to hold the book. And your neck leans against the pillow in a relaxed position. Or you can do as our encourager Marietta does. You wrap the roll around your lower body as a "U" and place the rectangular pillow on the back of your neck. You won't even want to get up, so it's best to stock up on reading material now.
Positive support for pain, spasticity and paresis
Do you suffer from pain, spasticity or paralysis? You are probably familiar with this and often automatically lie in the fetal position. Why don't you model the positioning roll around your body? You will notice, the cushion additionally supports the position and you can adopt a more relaxed posture.
Our encourager Marietta has even discovered a little highlight here:

In general, Saljol cushions have a very positive effect on paresis or spasticity. With certain positions you reduce the increased muscle tension, promote sensitivity, initiate a physiological movement and enable a better feeling for the own body limits. There are also special positions that you can easily adjust with our pillows. It is best to talk to your physiotherapist or occupational therapist.
Wipeable pillowcase
The pillows have a closed incontinence cover. This cover is not only very nice to look at thanks to the colour petrol, it is also wipeable and very easy to clean. You can therefore use the cushions without hesitation for people with incontinence/bladder weakness or poorly adhering plates of an artificial bowel outlet.
In addition, a white cotton cover is included with each pillow. You can wash this in the washing machine at up to 60° Celsius. To dry, you can place the white cover in the tumble dryer at a low temperature.
Protection on the sides of the bed
Are you afraid of falling out of bed at night? Maybe that's why you already have a bed with side rails. If this is the case, you are probably familiar with the problem of lying against the hard side rails in the morning. Or that your arms/legs stick out of the gaps between the rails. To avoid this, you can simply place the pillow roll against the side rails. You will no longer be lying against the hard sides at night, but on a comfortable, warm pillow.
You don't have a bed with side rails yet, and therefore you are worried that you might fall out of bed at night? Again, you can try to solve this problem with the pillow roll. Often it is enough for the body to feel a boundary. To do this, place the pillow roll against your body as a bound ary. Maybe this will already help you not to roll over the side of the bed.
Bedding for bedridden relatives
You can use Saljol's pillows not only for yourself, but also to support your care recipient.
Particularly with care recipients who spend a lot of time in bed, you or the caregiver must change the position several times a day to relieve the pressure points. Pressure points and bedsores can only be avoided by frequent changes of position. With the positioning cushions, you can implement many positions. And all this without a multitude of towels, blankets or small pillows. Many towels and pillows only offer a further risk of pressure sores, as they can wrinkle and cause pressure sores.
Who needs the positioning aids from Saljol?
The Saljol mattresses and pillows can help you if you are
are a side sleeper.
are often looking for the right position at night.
are looking for a cosier and more comfortable sitting position in bed or on the couch.
suffer from pain or spasticity, or have paralysis.
sleep better with their upper body elevated.
would like to keep their marital bed
are afraid of falling out of bed
are prone to pressure sores.
are looking for a comfortable mattress that quickly adjusts to your body in new positions.
are looking for a mattress for a care bed.
have a relative with dementia.
have restless sleep.
are looking for pillows and mattresses that are easy to clean.