Magnetic cane holder
Do you use a walking stick or crutches? Doesn't it annoy you that gravity constantly causes your walking aid to fall to the ground? Bending over for your walking stick is not only exhausting. It also puts you at risk of falling. With the individual solutions of the magnetic cane holder Held, your walking aid will find a handy and safe place everywhere in the future. Promised!
Why a magnetic cane holder at all?
The Held magnetic cane holder will make your life easier if you rely on a walker, cane or forearm crutches.
Perhaps you use a walker because:
You sometimes get dizzy and feel safer with a walking stick.
You walk somewhat unevenly and the walker keeps you from falling.
You need to take weight off one leg due to a sports injury.
You simply feel safer with a walking aid.
You want a stylish walking stick as a fashionable companion.
No matter what reason applies to you, you know the problem with that pesky gravity. You need a hand free quickly or want to sit down at a table. You lean your walking aid against the wall and it happens. The walker falls to the floor. If you stand securely on the legs, you can "fish" the going assistance - otherwise it could become dangerous and you could fall. This is exactly the danger you can do something about! Our magnetic cane holder hero helps you to trick gravity. And it doesn't matter whether you're sitting at your favourite spot at home, at the bus stop, in a restaurant or at the supermarket checkout. And you always have your walking aid at hand.
Also for the boys of the football club FC Aich is the magnetic stick holder hero a real asset. Whether during training or at the game an injury to the leg is quickly happened. But with the help of the practical magnetic stick holder, the use of the crutches is much easier. Here's to playing football quickly becomes fun again!
How does the Held magnetic cane holder work?
The Held magnetic cane holder is a clip made of non-slip TPE plastic, with five strong neodymium magnets.
The Held clamp is simply placed on the walker, crutch or cane without scratching it. It already holds your walker upright, as long as it is on the ground and leaning against a ferrous surface.
You'll find ways for the magnetic cane holder to stick anywhere.
On door jambs, radiators, bus stops, supermarket checkouts, lanterns, in public transport and on park benches. But also on the sides of our club riser chairs, the metal plates from the "Held set for the home" and on the thaler from our set "Held with thaler".
The magnets are strong, but not so strong as to pose a danger or disrupt a pacemaker.
The Held magnetic stick holder does not wear out and does not get stuck. Elegant and stylish, it clings tightly to the stick.
In the normal version it is inconspicuous black.
For visually impaired people and to make it easier to recognize in everyday life, you can also get the Held cuff in neon yellow and neon orange.
It fits all common diameters from 18 - 22 mm. With the delivery you will receive an adapter rubber.
Safety instructions: Magnets can damage, among other things, televisions and laptops, computer hard drives as well as credit and EC cards, data carriers and mechanical watches, hearing aids and loudspeakers. Therefore, keep these objects away from magnets.
Which set suits you?
The single Held clamp is ideal if you already have plenty of ferrous surfaces at home for the cane holder to stick to. Or you can supplement a set with a single magnetic cane holder to prevent two crutches from falling over.
The Taler offers a mobile ferrous base. You can put the Taler in your jacket / trouser pocket. Already your walking support sticks with the help of the Held magnetic stick holder to your jacket or trousers. And you have your hands free for the front door key, the bus ticket or the wallet to pay.
The thaler is not only perfect for your jacket or trouser pocket. No! The set is also a real relief for rollator users and wheelchair users. With the "Held mit Taler" set you can upgrade your wheelchair or rollator with an additional stick holder. And all without plastic click fasteners or annoying velcro.
The set consists of a Held magnetic stick holder, as well as three self-adhesive metal adapter plates and is suitable
for the favourite place at the table,
as a wall holder for up to two walking sticks or crutches,
universal, for places where you often put your walking aid.
Please note when attaching: 3M's adhesive tape adheres very strongly when applied properly. Clean the area free of grease, press the metal plate firmly in place and allow it to cure for 24 hours before loading. It's so easy!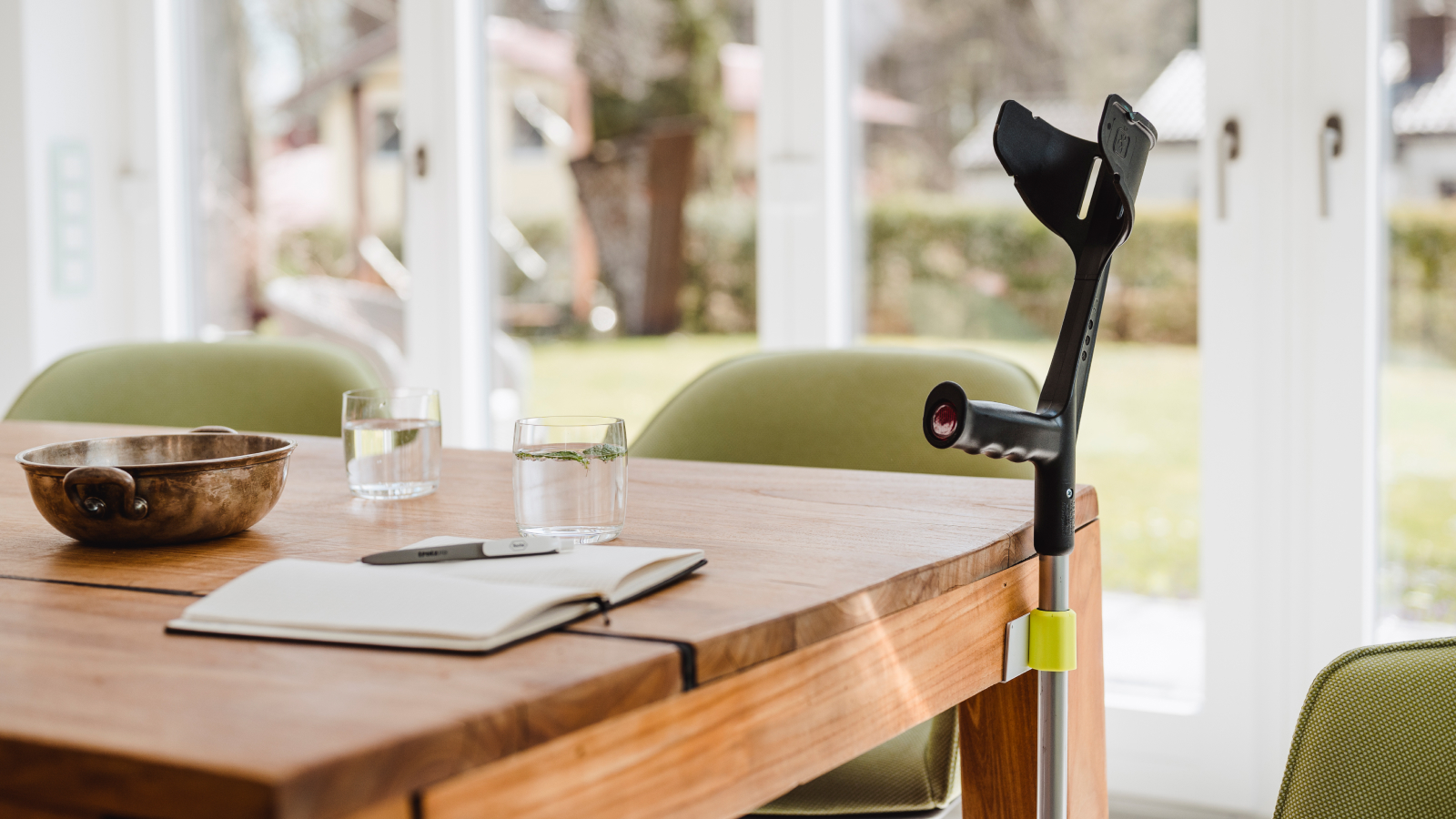 The complete set combines the "Held set for the flat" and the "Held with thaler set". You get each a Held magnetic stick holder, a thaler and the metal plates for the apartment. So your walking aid is always safe on the road and at home and you do not have to bend down for it.
Picture gallery Held magnetic stick holder