A true-to-life experience with the Indoor Rollator: Interview with MS Patient Claudius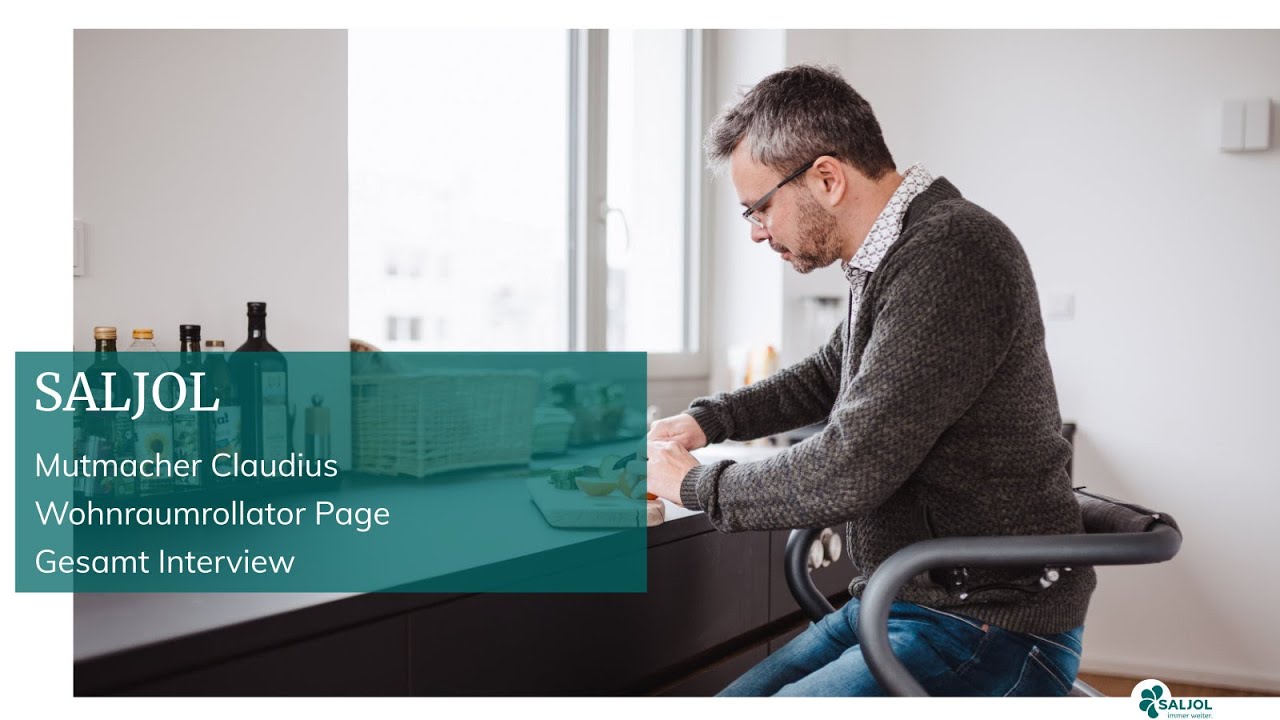 Thank you so much for letting me be with you today. Today we shall be talking about the SALJOL indoor Rollator Page. Could you briefly tell us about what your current situation is like?
Well, it is like this. I have had MS for about 25 years. It was relapsing for the first few years, but now, for about 10 years, it's been in the second phase of the illness, meaning secondary progressive. Therefore, my moving ability is getting worse and worse. I am very clumsy. I can't go far anymore either. Gradually I have had to give up all sport activities. The fact is, that I am also restricted in everyday life, for example, when cooking or clearing out the dishwasher, or generally moving around the home. That's where the rollator supports me, not as a classic rollator, but rather as a sudden seat. For example, when I am exhausted or can no longer stand, which happens very quickly, I can simply support myself and sit down, which is a real advantage and an additional help for me. So, as I said, it's not just a classic rollator, but rather more like a mobile seat, and enables me to tiptoe through the apartment.
Now you are able to say yes, if you want to sit down. Could you also use a normal chair. What is better when using the Page?
I had long considered buying a three-legged stool. But what's much better about the Page is the mobility. I can simply push it exactly to where I am, and where I am working. This might also be possible with a normal chair, but it's far more complicated. When I'm in the kitchen, I use it to move along the kitchen units.
You just have to push with your feet, don't you?
No, hands and feet. This great mobility aid helps me and is also very beneficial to me being you have the soft seat cushion and the back roll.
Why exactly do you have the back roll! Is it because it's softer?
I didn't even know there was such a thing. I just happened to come across it. It's great because you can simply lean back on it, and that makes it far more comfortable and easier to use in daily life.
Do you use the indoor Rollator in other rooms as well, or just mainly in the kitchen?
Actually, it's mostly in the kitchen, but with MS, you never know exactly how the disease will develop. Therefore, I'm glad to know that you can also use it as a classic rollator. Also, I don't have handrails in my apartment to hold on to, but with the Page I have mobile handrails.
In you own words, what does the Page mean to you?
Putting it in a nutshell, it's just a great relief for me, as it's mobile and has a versatile seat, which makes my life much easier. Also, being it can brake and be fixed at any time, when I have to move around the apartment and then have to hold on for short periods of time due to losing my balance or out of breath you can use it as a mobile handrail.
Let's discuss briefly the appearance for a moment. Do you like its design or do you have any suggestions what could be made differently?
It's modest and trendy but not fancy rather it is elegant and impressive. I thinks it's awesome.
Thank you very much Claudius, for letting me be with you today and many thanks for the great comments.
More Items:
Living room rollator as toilet support frame
The Page living room rollator is a real all-rounder for an independent everyday life. It not only supports you in the household, but also offers optimal support in the bathroom. Due to its special design, the living room rollator is stable and tilt resistant.