Free & individual advice via online chat: Hier Chat starten!
Innovation from Germany
Wir entwickeln in Deutschland!
SALJOL entwickelt alle Produkte in Deutschland nur für Sie.
Dadurch erfüllen wir höchste Ansprüche auf Qualität und Sicherheit.
|
30 days trial in Germany
Null-Risko-Garantie!
Profitieren Sie von unserer 30-Tagen-Geld-Zurück-Garantie:
Einfach bestellen, 30 Tage kostenlos testen und bei Nichtgefallen einfach zurückschicken.
Saljol verspricht Ihnen eine unkomplizierte Rückabwicklung.
|
Secure payment
Standard- und Express-Checkout
Saljol arbeitet mit den sichersten Zahlungsmethoden und Partnern.
In Zusammenarbeit mit Paypal, können Sie unseren Express-Checkout nutzen - ohne Anmeldung, ohne Extrakosten.
Comfort back belt
Saljol Partner in your area
Sit down and rest comfortably on the go - the comfort back belt for Carbon and Allround rollator makes it possible
No matter what time of year, a walk in the fresh air mobilizes the body and clears the mind. So it's all the more important to take a little break along the way. To recharge your batteries or simply enjoy the view. No bench nearby? No problem! Because with the comfortable back belt from Saljol you sit comfortably and above all safely on your rollator. It gives you the support you need to sit upright and not tip backwards.
The comfort back belt fits both our Allround rollator and the Carbon rollator from version 2023. You can easily tell which version you have by the rollator handles. Are the armrests completely made of cork like here in the picture? And does the rollator handle have an insertion rail for the back strap? Then this back strap is the right one for your rollator.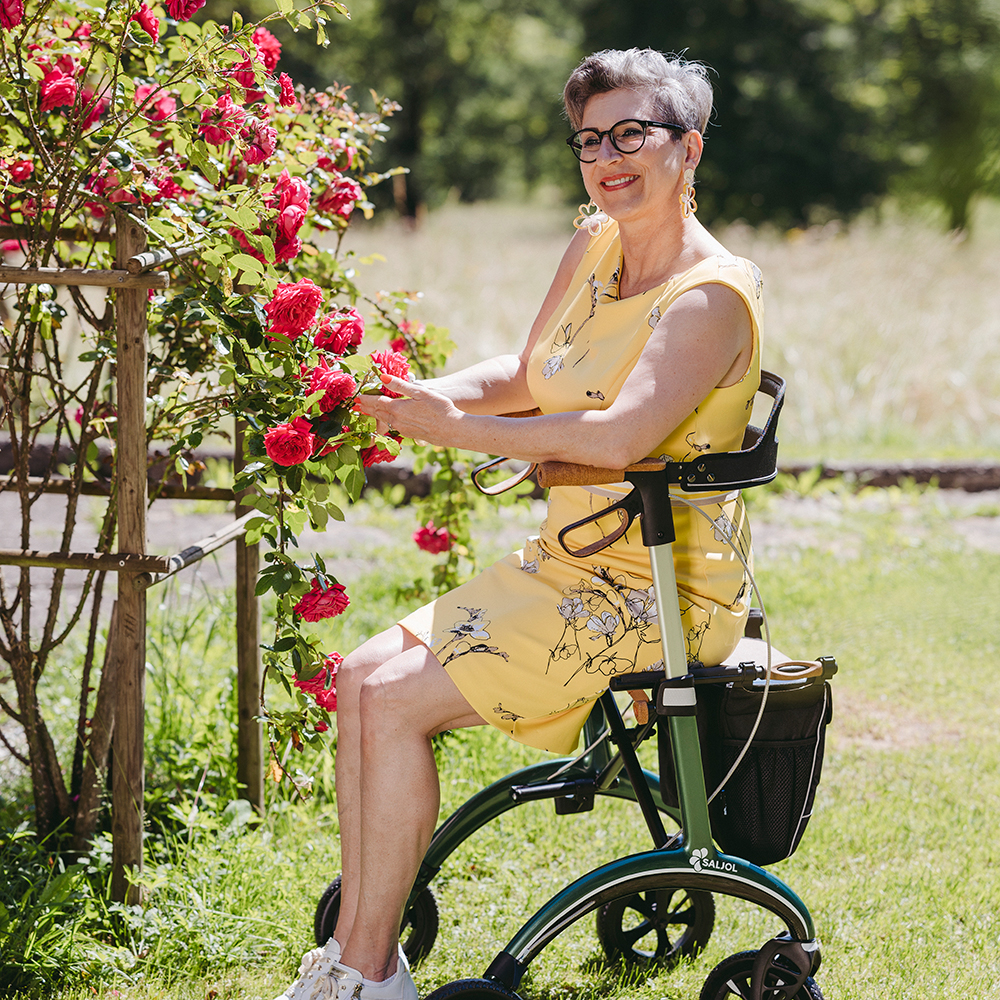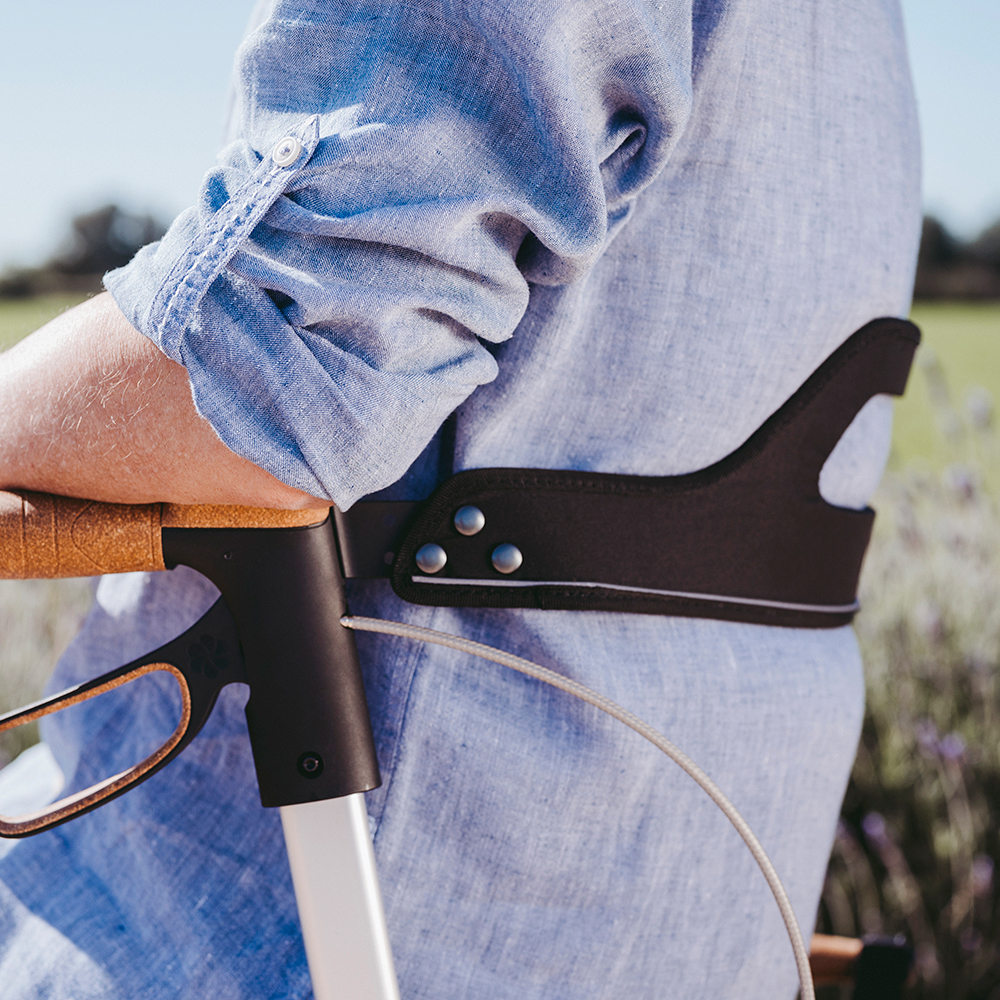 The practical comfort back belt not only offers you a high level of comfort, it also has features that make it unique on the market.
The leaning surface is particularly large and wide, making sitting much more comfortable.
If the belt is too high up on your back, you can turn it 180 degrees in just a few easy steps with a screwdriver, so that the leaning surface now provides better support for the lumbar area.
An extra-large recess on the leaning surface of the comfort back belt ensures that you have an unrestricted view of the ground in front of you when pushing the rollator. This "viewing window" gives you more safety when walking, because you can better see if there are any obstacles or bumps in the path.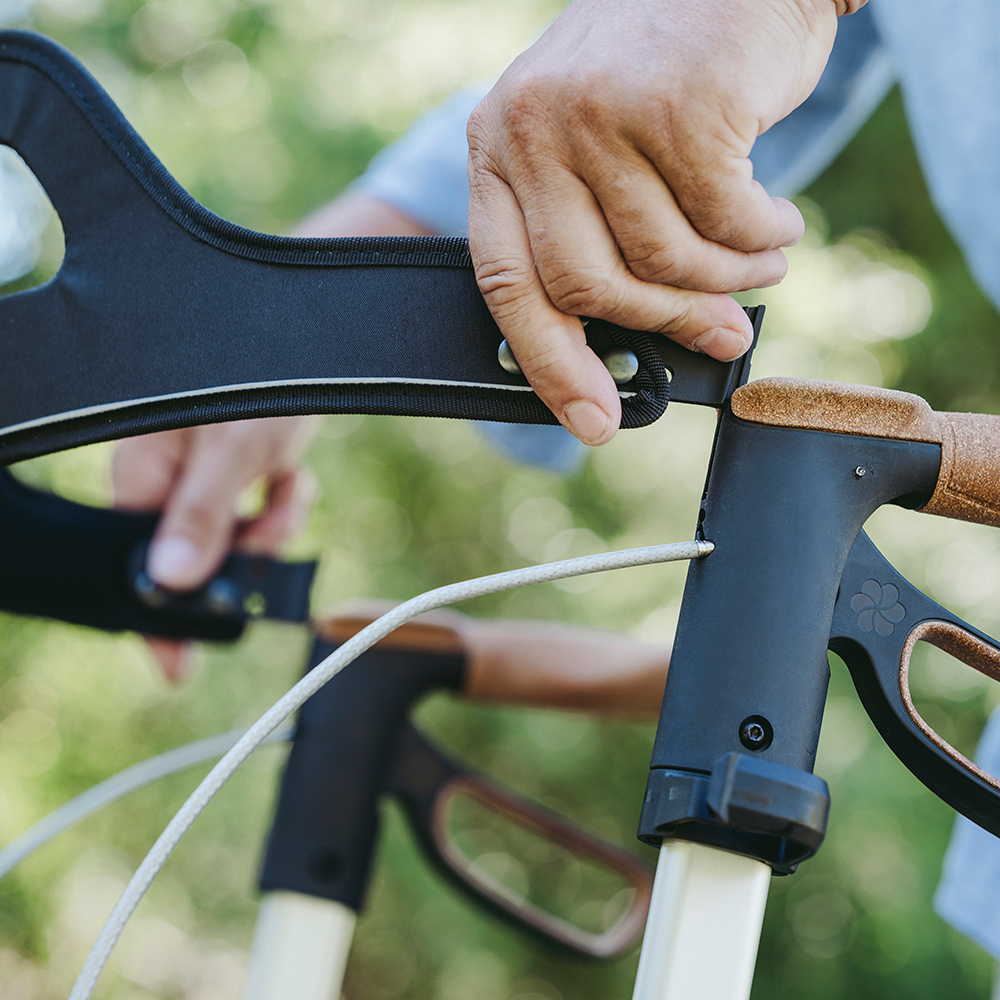 In addition, the belt is size adjustable and therefore suitable for stronger people.
A reflective strip that runs across the entire belt provides more visibility and thus safety when it gets dark.
The optimized belt holder makes it easy to attach. Simply insert it into the rails on the handles on both sides and you're ready to go. With only two handles you can remove the belt if necessary and store it in the rollator bag.
Please always make sure that you activate the parking brake of the rollator by pressing the brake lever down before sitting down. Only then can you safely sit down on your rollator, lean against it comfortably and catch your breath.
1.2s