In this interview, you will learn more about her life with MS and how to get used to an assistive device from the encouraging Bidi. She also shows in a humorous way how helpful an assistive device is in everyday life and describes how she uses the Rollz Motion Performance, a rollator wheelchair, to be more mobile again.
Hello Bidi, nice that you have taken the time for us. Would you like to introduce yourself?
I am Birgit called Bidi. I've had that name since I was little. I am married and have five lovely children. I have MS. I started with bad eyesight in 1992. I was sitting in front of the computer and my vision was so blurry. After that I went to an eye doctor, but nothing was seen in my eye. My eye doctor sent me to a neurologist. At the neurologist it went quickly. Within four weeks, my doctor came up with an MRI that it could be MS. Yes, of course I was really devastated. Because I thought, well vision problems, he gives me some pill and then it goes again. That it is something like that, I found now not so funny. Especially since it was not yet so well researched at that time. But my doctor gave me a lot of courage back then.
My first thought was, can I have more children? Four children have always been my goal in life. And then my doctor said there's nothing wrong with having kids. I also asked if I could pass on MS or not. And so I was reassured and poof, poof, I was pregnant. The four children became five children, but yes, it just fits. It's fun, it's exhausting and you need good support and I have that too.
There were good years now, but also years where there was a push again. When I look back now, I have been struggling with walking for 5 / 6 years. The distances have become shorter and shorter, it becomes strenuous. And so it is now, but I still walk on two legs.
How old were you when MS was discovered?
I was 24 years old.
It started with bad vision and then it started again? But it was better during pregnancy, right?
During the pregnancies it was better. The first pregnancy I had a relapse. But that was not because of the pregnancy, because I was always fine during the pregnancies. And I also had hormonal contraception before that and I was fine. When I took this off, there was a surge. I'm sure there is a connection with my hormones.
In my first pregnancy I was prone to colds. During the first years I had to be careful of every cold, because after a cold there was often a relapse. That was in the first pregnancy, but apart from that the pregnancies were always top-notch.
Now you've decided on a walker wheelchair. How was the way there? How did you decide that you needed one?
It wasn't easy at first. Just like the first time I went outside with a cane. I had problems with my balance and then the doctor told me to use a walking stick to cushion it. The first time I went into the supermarket with a bright red pear. But I soon noticed that people look at me differently with the cane because I walk around. In the past, they used to look at me as if I had a stick because I walked so funny. With the cane I have set a sign: No, I can not help it. Since then, people have been getting out of the way and making room. So I actually find it very pleasant. It was the same with the wheelchair.
I can't walk anymore. My family is running away from me and I'm panting after them, I can't even keep up with them. I'll be totally knocked out. My husband has always encouraged me, why don't you take a wheelchair and I have actually resisted as well as against the stick. And then I thought, okay, I'll sit in it. And it was great! My husband drives me and I am just not knocked out.
I see a lot and can look around. I don't have to watch the floor anymore to make sure I don't trip. I can sit in there and just enjoy it. And meanwhile I really like to sit in it because I know I'm being pushed and I'm not knocked out.
You have the Rollz Motion Performance, it has pneumatic tyres. How do you use it mainly? The Rollz Motion is a rollator wheelchair and you said you use it mainly as a wheelchair.
Yes as a wheelchair. Like I said I don't go far alone anymore. If I do, I do my rounds with my walkin sticks here in front of the house. When I want to do some gymnastics. But the wheelchair is actually always with me in the car when we go somewhere, so my husband can push me. That I simply don't overexert myself and am still mobile. And that is great. That's really perfect.
And you told me that you had the Rollz Motion with you on vacation.
Yeah. Our son works in Ireland and then we flew over in January. There I also used the airline's wheelchair service. Which is great. I was first driven to the gate and picked up again. We had my own wheelchair with us, because we need one in Ireland, too. I was driven to the gate, the wheelchair was folded and the airline stowed it away.
Did you also use the Rollz Motion for walking?
To go for a walk, into the pubs, so I was mobile. I had enough drivers with me, who pushed me.
How does it feel to those who push you? Is it pleasant?
Back in Ireland I still had the Rollz Motion, now I have the Rollz Motion Performance with pneumatic tyres. The pneumatic tires are a great relief. A for me to sit on, because it is just softer. And B for those who push, it is easier.
What was it like when you first used the wheelchair? Was that a breakthrough for you?
The very first time I rented a wheelchair in America. And so now when I used the Rollz Motion it was no longer the overcoming because I just realized it was good for me. The biggest overcoming was the stick. And I think to myself, if you have already overcome yourself the first time, then everything else is an aid which just helps.
Finally, do you have a few words for someone who is in the situation that they should or want to get an aid?
I can only suggest to everyone to just try it out. You don't have to get it right away, maybe it doesn't fit at all. But the cane helps me and the wheelchair helps me in any case. Because you take part in life so much again and that is simply beautiful. I know it takes a lot of effort in the beginning, but once you have used it, it is so much easier. And that's why everyone should just try it.
Here you can watch the whole interview!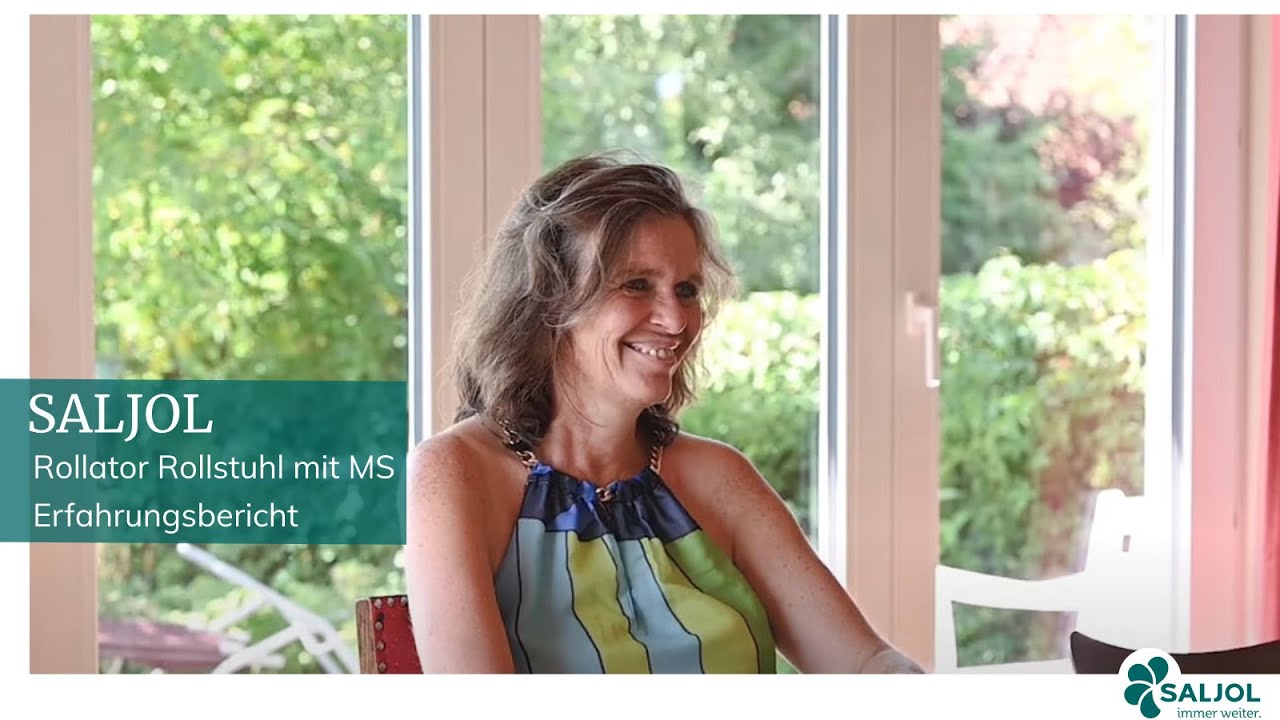 More Items:
Sitting correctly in a wheelchair
In an interview with the wheelchair expert Bengt Engström, you will learn what makes an ergonomic seat of a wheelchair and how to sit correctly - even for a long time - in a wheelchair.
Experience with Indoor Rollator: MS Patient Claudius
Claudius has had MS about 25 years. The first years it was relapsing. about 10 years, it has been in the second phase of the illness, meaning secondary progression. Claudius is restricted in daily life. The indoor rollator Page helps him, especially in the kitchen, when clearing out the dishwasher