Innovative products to prevent falls for an independent everyday life.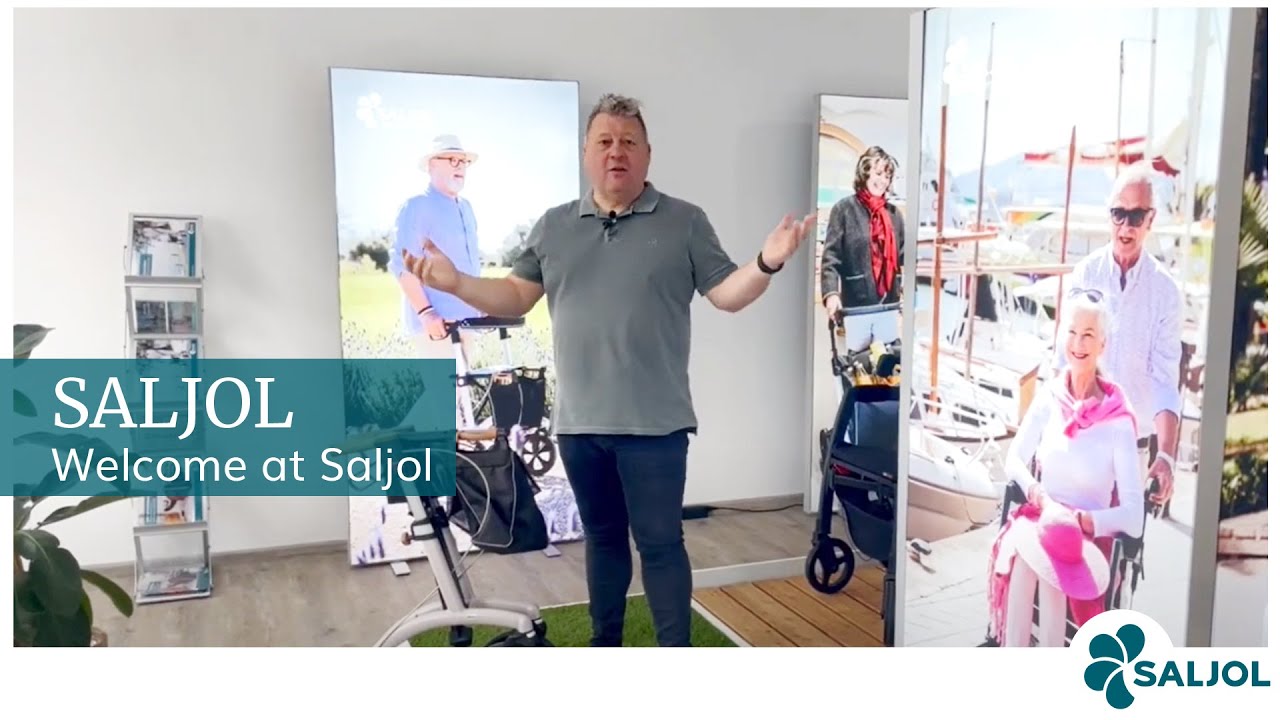 About Saljol
Ideas for better living
What does SALJOL actually mean? Very simple: "Spaß am Leben – Joy of Life". We develop innovative products for an easier life that prevent elderly people from falling. We think beyond industry standard. For products that enable an independent everyday life. For solutions that enable you to live at home as long as possible. With high-quality materials and smart innovations.
Become a Saljol distributor: Register now for exclusivity
Our product ingredients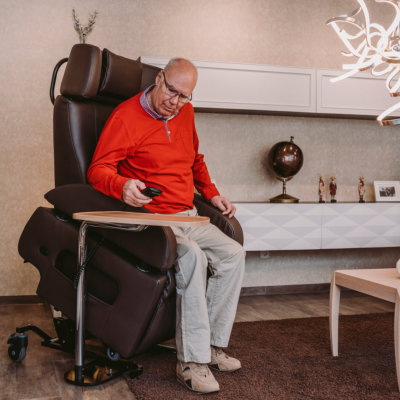 Easy handling
Products from Saljol provide maximum usability. The acceptance of the product is the essential base to be used at all. All of our products are tested by real users in their handling and continuously optimized.
Attractive design
Saljol products spread a feel-good atmosphere with their appealing and high-quality design. In terms of form and function, they are inspired by furniture from our youth. They perfectly blend in with the furnishings or can be real design eye-catchers.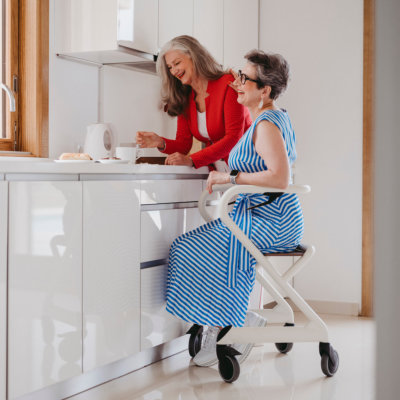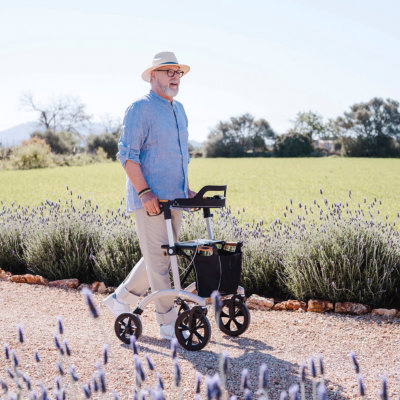 Prevent falls
We all know: Falls in old age are the beginning of the end. Only 50 % of all people who fall regain their previous mobility. This is why a product from Saljol has to be absolutely reliable. They all follow the calim of fall prevention. Not only because they provide safety, but also because their users feel safe using them.
Relief for carers and relatives
Caring for an ageing person demands a lot from those around them. The carer has to be reliable. For Saljol, a product must always be beneficial for caregivers and family members, too.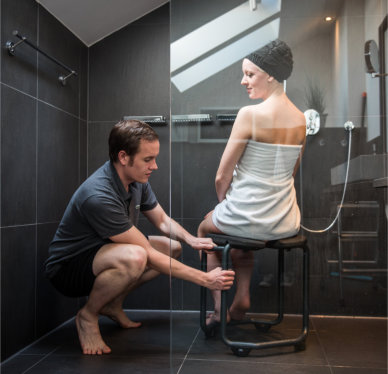 Ideas and product's designed in the heart of Bavaria, Germany!
Our current distributors
What our distributors say about us

"Our team from dennda Orthopädie + Rehatechnik AG has found in Saljol the manufacturer who shares our idea of a mobile, self-determined life even in difficult phases of life. The philosophy behind Saljol and its design aids fit exactly with our ideas."
Markus Dennda, dennda Orthopädie + Rehatechnik AG, Swiss
"We want to work together with Saljol because we are specialised in products that make the difference;
High quality together with an attractive design is what we find in the Saljol products."
MOBIMED BV, Belgium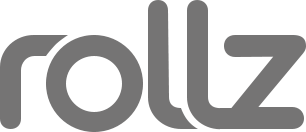 "It is great to work together with the Saljol team. Their product support is always very quick and helpful. Their high-quality products are the right response to the changing aging market. We like to be one of the first dealers in our country to offer good looking and very functional mobility aids. This is exactly what our customers were seeking. In particular working with Thomas Appel is very interesting and fruitful, since he has a lot of experience of dealing with over the counter-products. He has helped us with many ideas and tools to start running an over the counter business in our market."
Richard Zwart, Rollz international BV, Netherlands & United Kingdom
"It is an honor to work with the Sajol team. In Japan Saljol's rollators are unprecedented in terms of its high quality and stylish design. Not only it supports who need mobility aids but also it is simply fun to use with its iconic design. That is why, the feedback from our customers are always preferable. While working with Saljol, we feel their enthusiasm and passionate in offering the best quality.That is one of the reasons why we trust Saljol and look forward to expanding the business with the team."
Noboru Watane, LAC Healthcare, Japan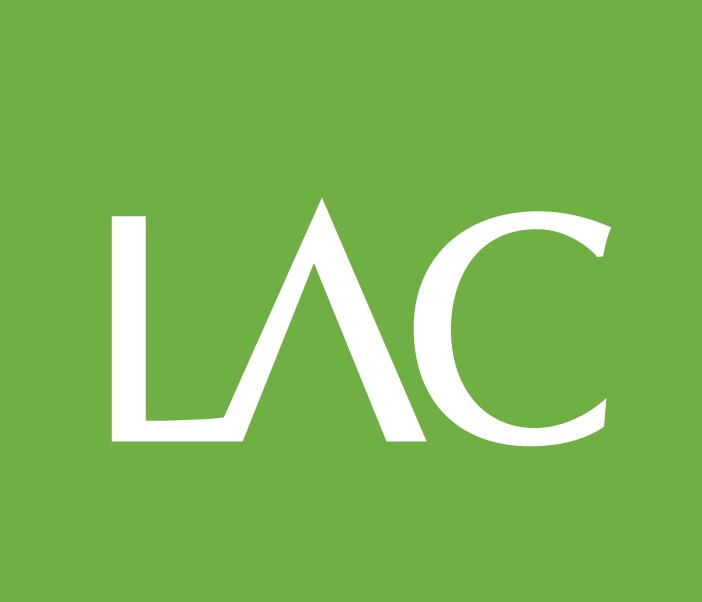 4 steps to become a Saljol distributor
1
Apply online
Fill out registration form. If you fit to Saljols distributor profile we will invite you to an online meeting.
2
Online meeting
Presentation of your company. Time for questions.
3
Trial period
One year of trial period begins. First products will be launched in your country.
4
Exclusivity
If both parties agree on continuing the partnership, you will be provided with exclusivity.
Your benefits as a Saljol distributor
Technical support
For the most common support and maintenance works you will be provided with instruction videos. For other incidents our team will help you within 48 hours.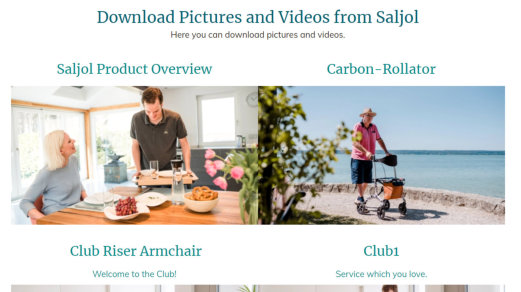 Marketing support
You have access to our picture and video database for your own marketing activities. We can also adapt Saljol marketing to your wishes.
Our product range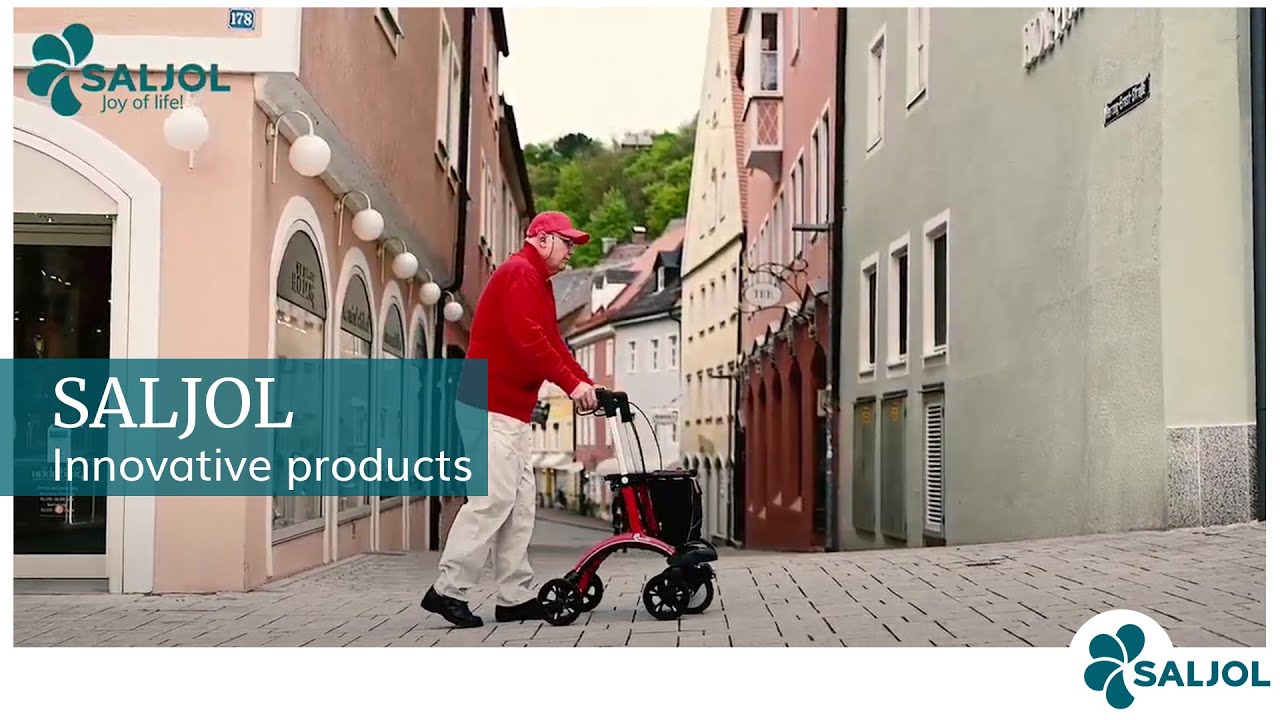 Carbon rollator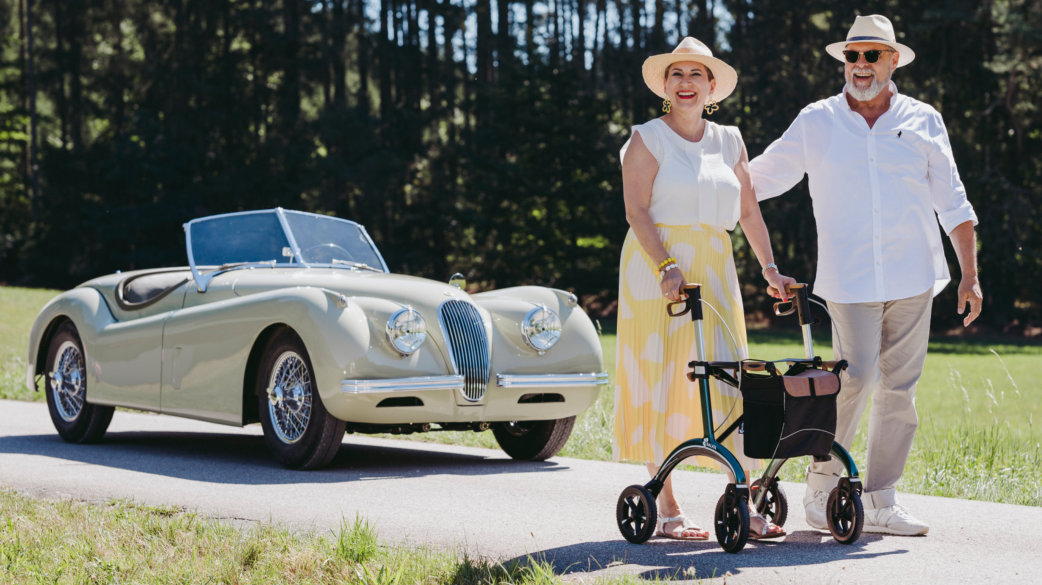 5,8 kg | 12,787 lbs
Walk safe and ultralight
Move and manoeuvre easily. Overcome thresholds with ease. Reflectors on frame and wheels. Unique, curved design. Cork handles.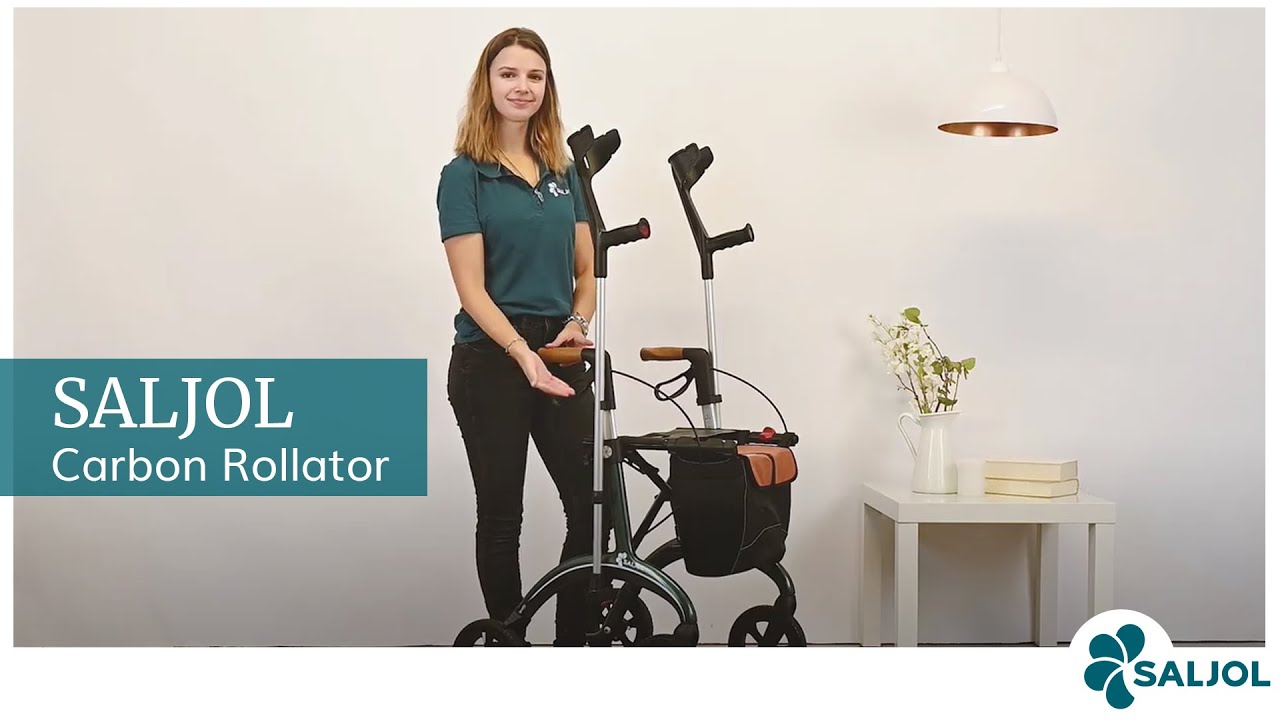 Allround rollator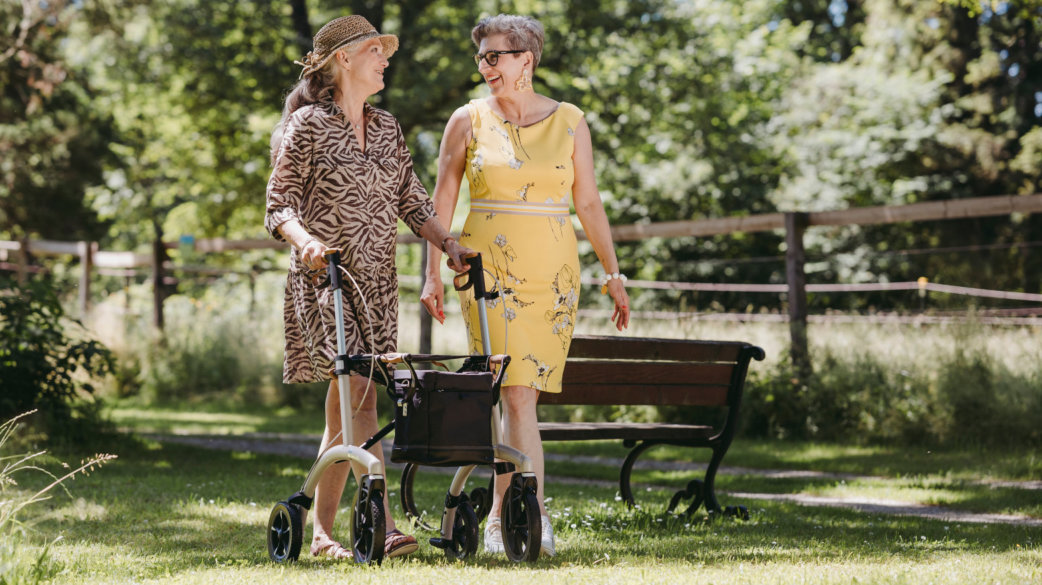 Aluminum and lightweight
A multi-talent for town and country
Extra large front wheels for a good driving experience. Modern design. Cork handles and a convertible one-hand simultaneous brake.
Riser armchairs Club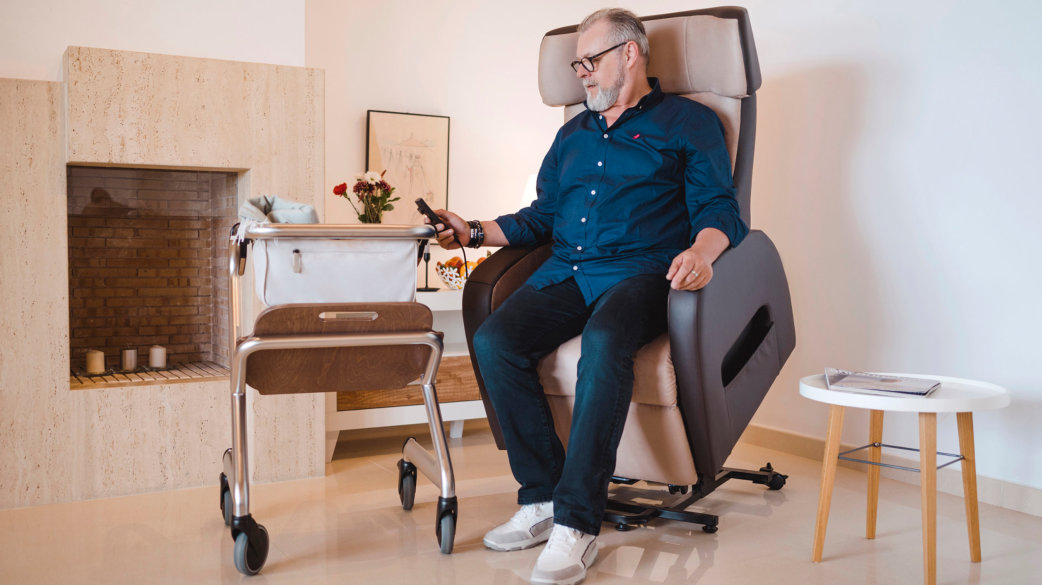 Rising and reclining chairs that are suitable for sleeping, transporting or relaxing. Users can sit down and stand up independently. A lumbar support provides additional stability. The headrest can be individually adjusted. Breathable fabrics prevent chill and heat accumulation. Avoid dangerous falls with the magnetic remote control. Simply attach it directly to the armchair. Optionally available: washable incontinence protection in chair color.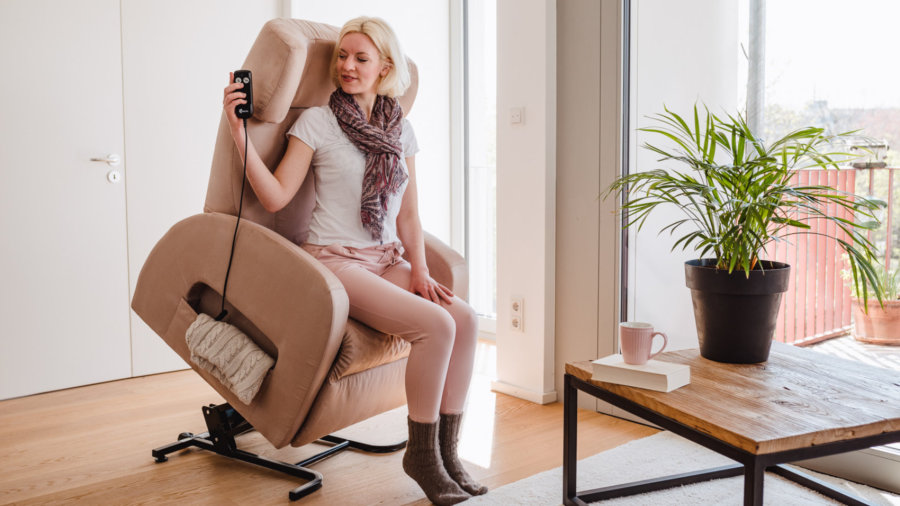 Easy to use
Club 1
Sit comfortably thanks to spring cushions. Easy to use with only two buttons. Seat depth can be adjusted individually.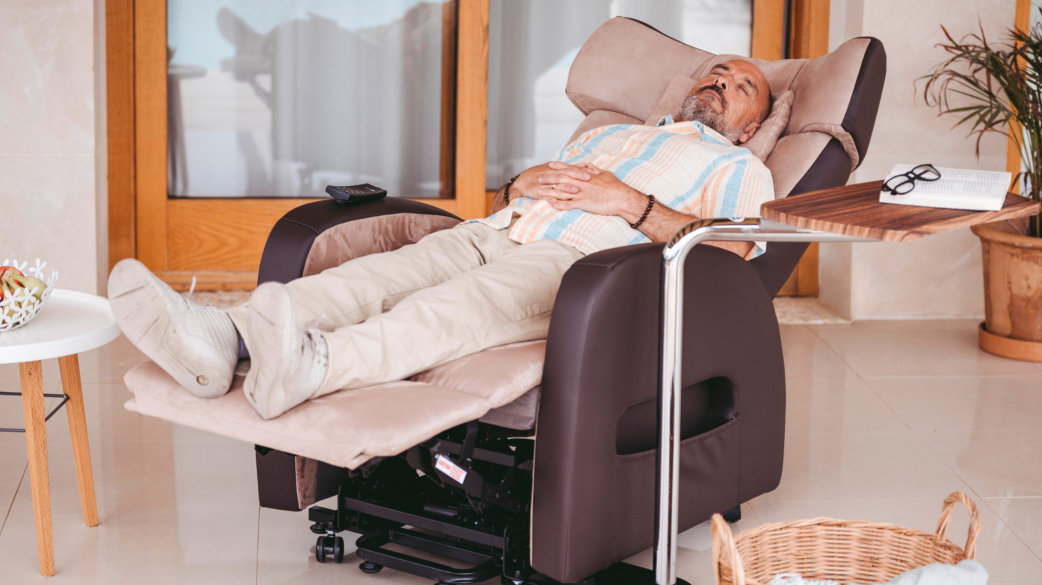 Sleep and relax
Club2
Day bed function: no need for the user to switch between bed and armchair. Every user is guaranteed to find their favourite position: Separate control of foot and back sections.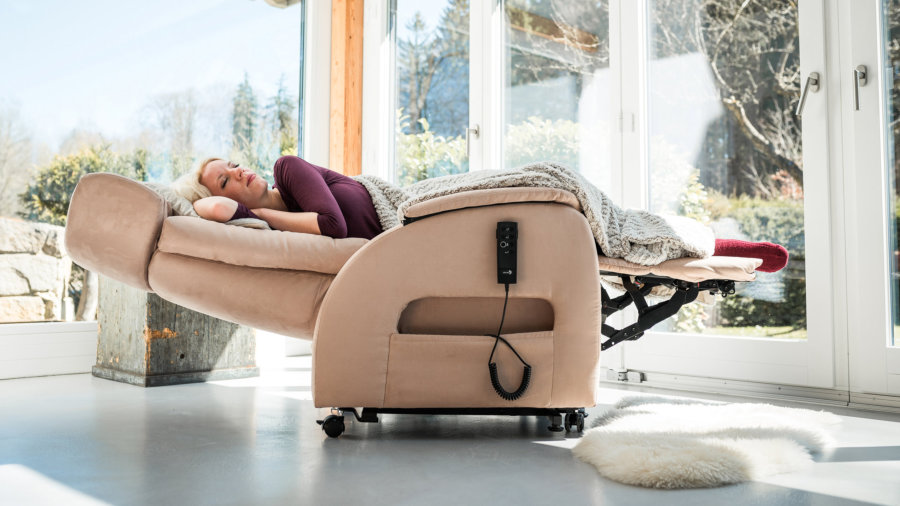 Extra comfortable
Club2 soft
deal for people who like it cosy: Extra soft thanks to additional removable and adjustable pads.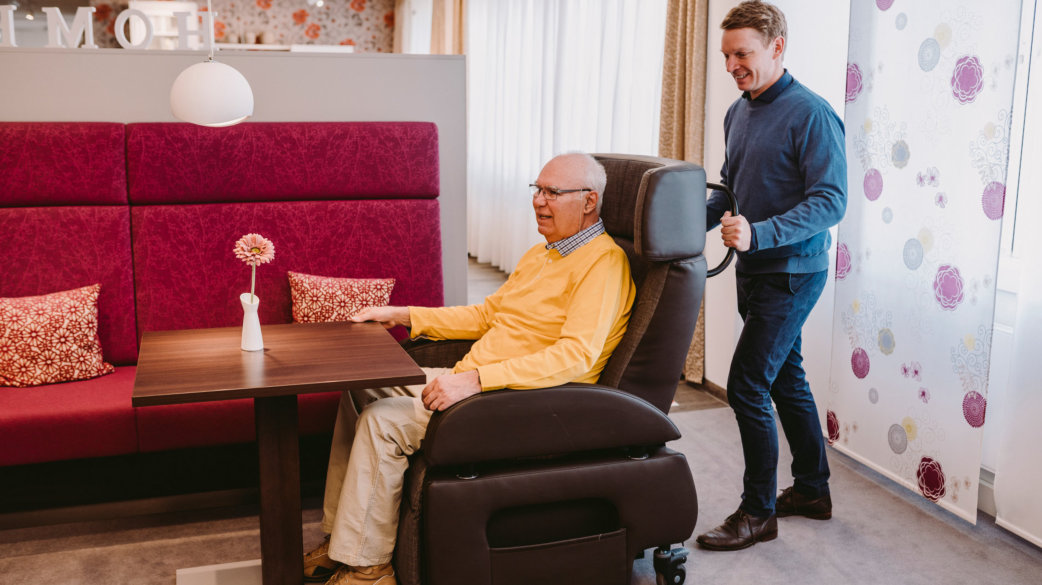 Sliding function
Club2 Mobil
Move users around in the smallest space. Material made of disinfectable imitation leather and / or breathable, resistant woven fabric.
Relax to the max
Club3
Pure relaxation with raisend legs. Its small space makes it ideal for small flats. With the shortcut keys, the user can quickly reach the favourite position.
Indoor rollator
Independent and safe
Versatile
Due to its strong frame, support is possible from all sides. With tray and bags ideal for transporting e.g. dishes. Movable in seated position. Suitable for small apartments. Replaces toilet frames or handles on the wall.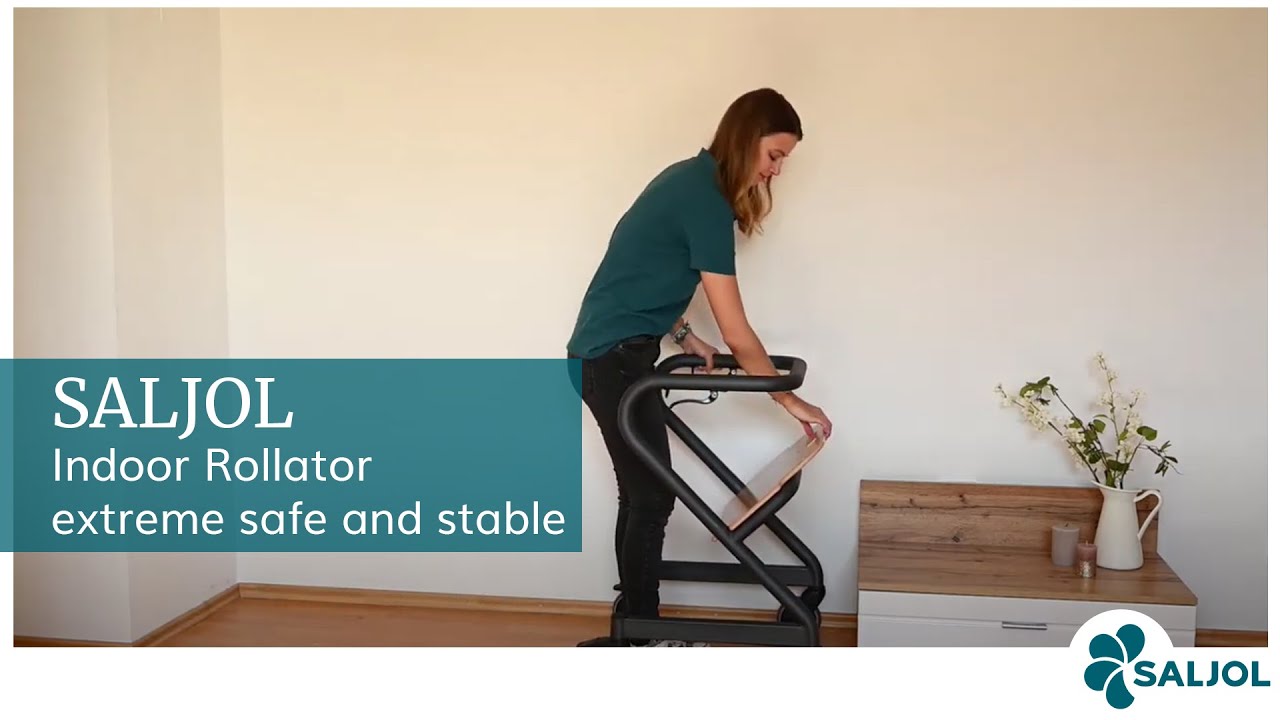 Shower stool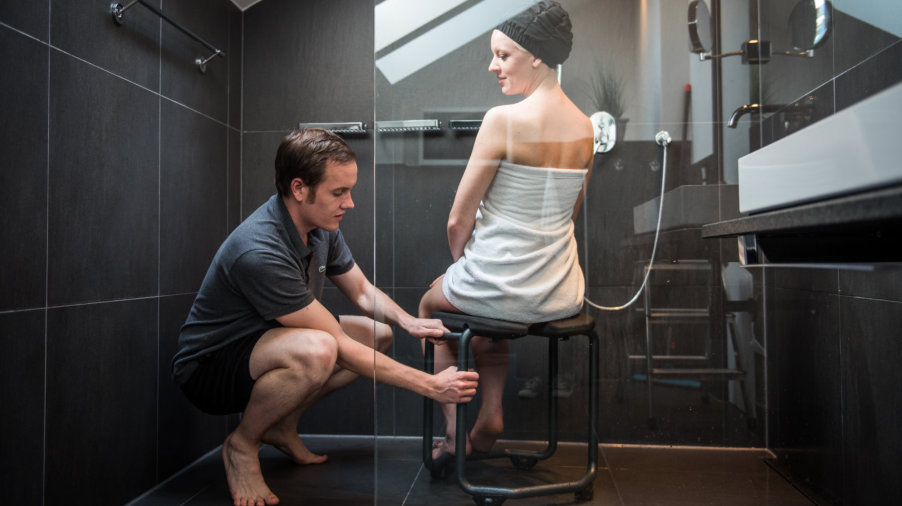 Does not slip away.
Only rotates on the spot.
Users sit down safely without slipping away and reach all parts of the shower easily with a twist. Material reflects body heat: You sit comfortably warm, and not on cold plastic. Wellness design: Matches bathroom design and creates a comfortable atmosphere. Care made easy: Feet of caregiver stay dry while turning the user in the shower to reach all body parts.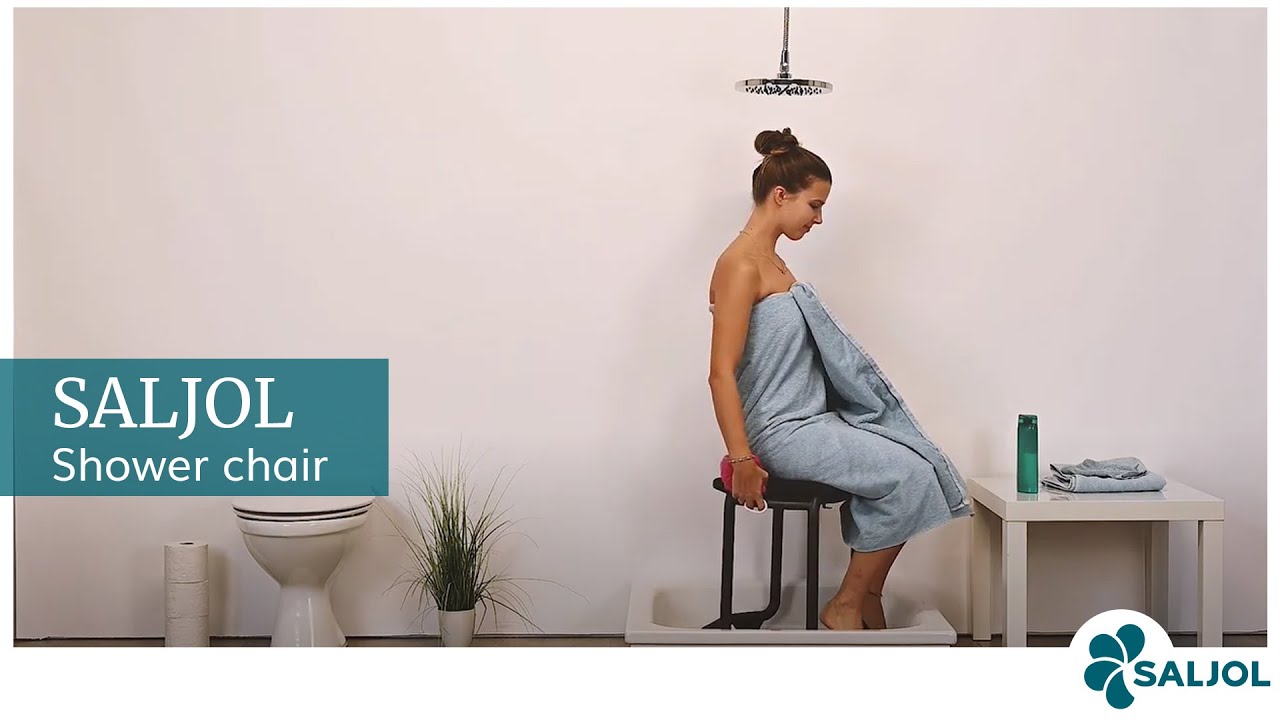 Magnetic cane holder Held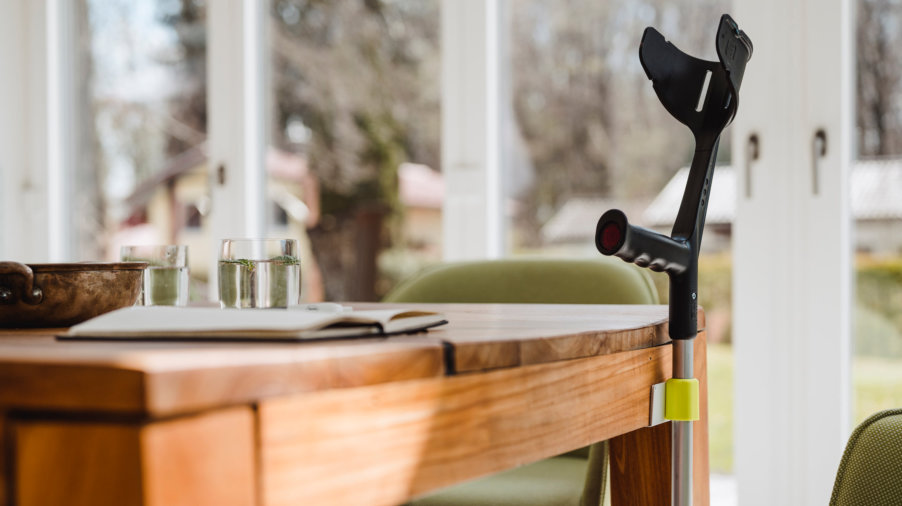 Have your hands free.
Walking aids do not fall over.
Holds on everything containing iron. Clip it to the cane or crutch.Place the counterpart in your trouser pocket, handbag or stick it to the users favourite spots.
Our Team - Our Story
What does Saljol actually mean? Very simple: "Spaß am Leben – Joy of Life".
Having fun in life, no matter the situation or stage of life is very important to us.
Saljol was founded in 2016, with more than 20 years of experience in medical and rehab technology. Our goal: Develop better products for an easier life. We love people. Especially the ones we owe a lot to. Our parents and grandparents and all those who have a harder time in life due to physical limitations or disabilities.
Whenever possible, we develop and produce Saljol ideas and products in the heart of Europe, in Bavaria.
Safety and problem-solving are as important to us as comfort and design.
Wherever elderly and disabled people are provided with basic standard aids, we offer that little bit extra - which, in addition to functionality, also enhances the quality of life and brings a smile to the faces of the users.